There are times where we are unable to meet in person, and still wish to continue being able to get together. So we have the ability to utilize an online video conferencing system to meet this need. This will allow us to be able to have a spot meeting in the event of something preventing us from meeting in person, such as a snow storm.

Utilizing Google Meet, we can organize conference calls for up to 250 people per conference by utilizing a computer, tablet, or phone. Users can also dial a number to join the conversation as well if they don't have access to a device that could use the browser version.

On desktops or laptops
Google Meet
Accessing Google Meet
Mobile devices
You can download the app on the major app stores.



---
Joining an Event

The conference room that'll be used will be put on the calendar for the event that will have a conference call. If you go to our troop calendar, open an event to view its details, and there will be the information on how to join.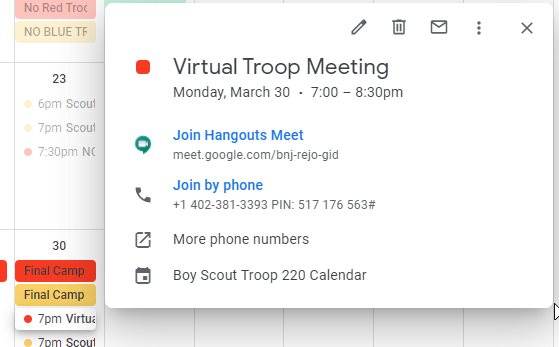 ---
Procedures for Meetings



Joining Meetings


Due to how Google Meet works, outside users have to be approved to join a session, and have to be approved one by one. Because of this, please join 5-10mins early to allow everyone to be able to be approved and so we can start on time.



Talking


During a meeting, everyone's mic should be muted and allow the speaker to talk. There is a chatbox that can be used if you need to say something or request to speak.

The chat box is not for side conversations and should be limited to the discussion going on. Please don't spam the chat with unnecessary text or irrelevant conversation.



Muting


With the exception of the Senior Patrol Leader, Assistant Senior Patrol Leader, Scoutmaster, Assistant Scoutmasters, Committee Chair, and the Chartered Organization Representative, do not touch the mute button on someone, especially if they are talking. It interrupts the flow of the meeting, and continued misuse might result in removal from the conference.



Video Conferencing


You are not required to use a web cam during meetings. Not all computers have them, and some people don't like having it.

If your web camera is on during a troop meeting, dress appropriately. Treat meetings just as if you were in a video conference for school or work, and have appropriate clothing and appropriate background settings.


---
Attendance

Registered scouts under 18 will have attendance taken as having participated in these events just like regular meetings. Those that participate will benefit from the additional attendance credit. It is expected that scouts make every effort to attend these meetings as if we were still meeting in person.

Normal circumstances that would prevent a scout from attending, along with an additional lack of internet capable of participating in the conference, will be excused. Just like always, if you have to be excused from any event, make sure to tell the Scoutmaster of your situation so it can be recorded appropriately.